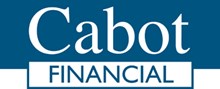 Cabot Financial, was founded in 1998 and now forms part of Cabot Credit Management. The largest debt purchase company in the UK, it is fully authorised by the FCA. Customer service and regulatory compliance are at the core of the business and culture and are implemented throughout our collections strategies.

The business currently has around 7 million consumers and seeks to treat each customer fairly and offer affordable payment solutions, often through long-term payment plans. Cabot has customer satisfaction scores in excess of all UK banking and building society benchmarks and many leading high street banks, and has one of the lowest rates of complaints referred to the UK Financial Ombudsman Service in the Debt Collection industry.

The company is a founder member of the UK Debt Buyers & Sellers Group and a leading player in the Credit Services Association and the Consumer Credit Trade Association. In addition, Cabot Financial is a member of CAIS, Insight and Share, the credit bureaux user groups provided by Experian, Equifax and CallCredit respectively.